*日本語の記事はこちら
CCRC published its technical report on "Security Recommendations for Distributed Energy System Aggregators, Based on METI Cyber and Physical Security Framework," in September 2021.
Standardization of security protocols in hardware and software engineering is critical to implementing Virtual Power Plants (VPPs). The Cyber and Physical Security Framework presented by the Japanese Ministry of Economy, Trade, and Industry aims to align the implementation of DER devices with international standards for the configuration of products and services within the global supply chain. The requirement for trust in organizing, implementing, and securing DER systems informs the creation of a multi-tiered approach to gaining trustworthiness.
In this report, CCRC provides the technology reference for DER system security in alignment with the above framework and suggests the best practices recommendations of security, authentication, and network with the application of various international standards.
CCRC Team of Authors:
– Masaki Umejima
Associate professor, Graduate School of Media and Governance, Keio University
– Selvakumar Manickam
Associate Professor, Universiti Sains Malaysia
– Christian Primack Metcalfe
Affiliate Professor, University of Washington, Foster School of Business
– David Farber
Co-Director, Cyber Civilization Research Center & Distinguished Professor, Keio University
– Jun Murai
Co-Director, Cyber Civilization Research Center & Distinguished Professor, Keio University
– Jiro Kokuryo
Professor, Faculty of Policy Management, Keio University
– Cherry Wong
Research Coordinator, Cyber Civilization Research Center, Keio University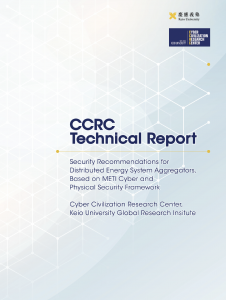 Click here to view the executive summary
Click here to download the full report