Keio University Cyber Civilization Research Center announced the winners of the inaugural David Farber Prize. Four winners were honored at the KGRI Great Thinker Series – Cyber Civilization: Prologue on Dec 7, 2018.
"I always hope to encourage undergraduate students as they will be the leaders of our society, in which I hope this prize can motivate the fresh minds to think about the implications of technology towards the society that they will be living in." commented by Professor David Farber.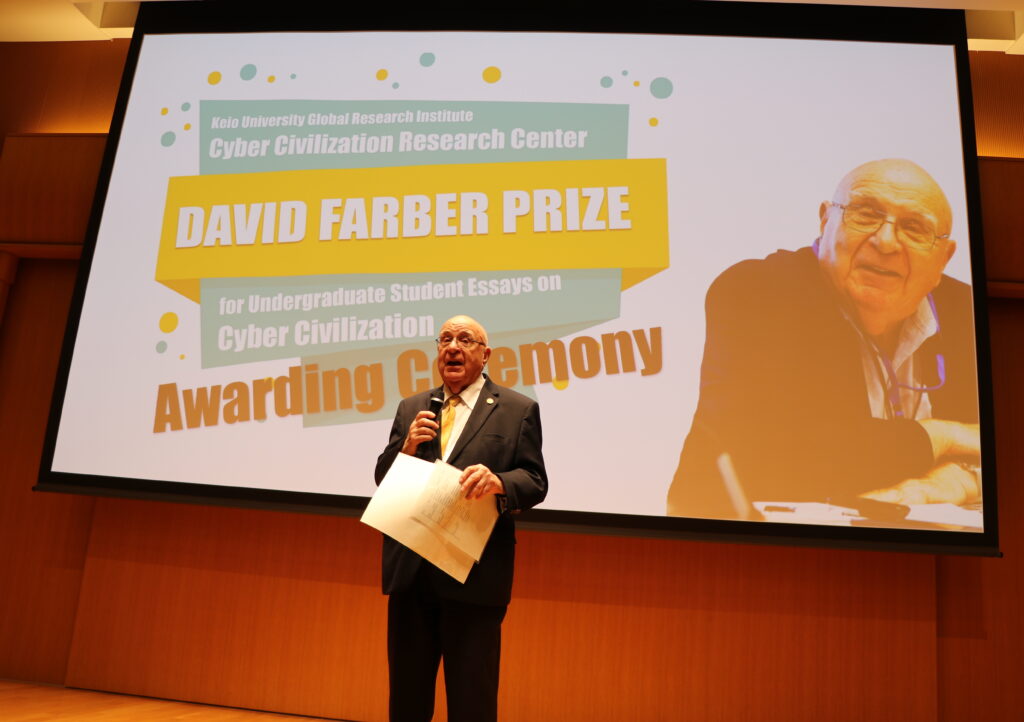 Professor Farber established this award to recognize undergraduate students at Keio University to write a 3000-word English essays in the area of interaction between information technology and society, particularly in the following three themes the Cyber Civilization Research Center is exploring:
Theme 1: The Implications of Connectivity on Civilization, Society, and the Self
Theme 2: Virtual and Physical Infrastructural Security in a Connected Age
Theme 3: Cyber Civilization Risks and Resilience
We are proudly to announce the following winners:
First Prize (JPY50,000)
"Peer-to-Peer Experience Economy: Can Engagement with Strangers Promote Connectivity in Humanity?"
by Daum Kim, Environment and Information Studies Year 4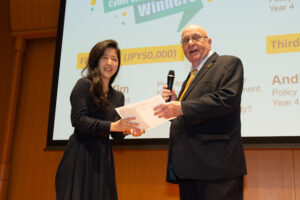 "I am deeply honoured to receive the David Farber Prize. I would like to offer my sincerest gratitude to Professor Farber as well as CCRC advisors and members. We are more connected than ever, yet we are becoming more isolated. Nevertheless, with trust developed on online platforms, I believe we can achieve true connectivity in humanity. With this trust, we can interact, experience, engage and collaborate with one another beyond cultural and language barriers. It is the era of cyber civilisation. Let's continue to work together in discovering values of humanity." by Daum Kim.
Second Prize (JPY20,000)
"It's Everywhere and it's Vulnerable"
by Lisa Takahashi, Policy Management Year 4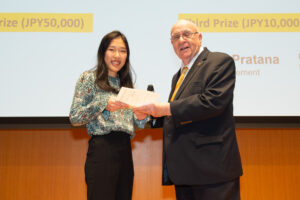 "Firstly, I would like to thank Professor Farber and CCRC for presenting me with this award. I am honored and humbled to accept this award and to join my fellow colleagues in this accomplishment. It was a great opportunity for me to think about the future of cyber civilization, cybersecurity, and resilience in a connected age. As the future leaders of the world, I believe the responsibility lies with us to initiate dialogue and to take action to fully benefit from the capabilities of information technology. Once again, thank you to Professor Farber and CCRC for presenting us with this opportunity!" by Lisa Takahashi.
"Virtual reality – the negative side and the measures"
by Xiaofan Liu, Policy Management Year 3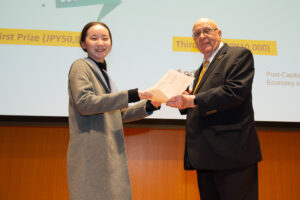 "It is my great honor to get the Second Prize of the David Farber Prize on my essay "Virtual reality – the negative side and the measures". I would like to express my sincere thanks to KGRI and Professor Farber for their efforts to organize this event, which provides a great platform to have communications on cyber civilization. With the rapid development of science and technology, the significance of the cyber civilization is becoming bigger and bigger and we should pay more attention to it as well. From my perspective, not only the government but also every individual has the duty to promote cyber civilization. Only in this way can cyber civilization develop sustainably in the future." by Xiaofan Liu.
Third Prize (JPY10,000)
"Post-Capitalism: The Future of Economy in a Hyper-Connected Era"
by Andree Pratana, Policy Management Year 4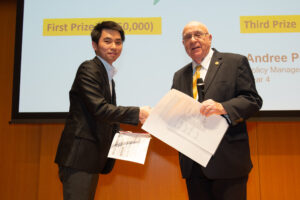 "First of all, I would like to sincerely thank Keio University and Professor Farber for giving me the opportunity. Additionally, I want to express my gratitude to my mentor Professor Kokuryo, friends, and everyone else for the support. Recent advance in technologies is propelling us towards the "cyber civilization", which is also the world of unknowns. In this paper, I tried to explore the implications of those technological advancements to our society, particularly the economic system. I found many interesting literatures about how technology will tear down capitalism, and that a new economic paradigm is emerging. In the end, technology should benefit people, and it is what CCRC is aiming for. I feel really honored and glad if my little work could contribute to the discussion going on at CCRC." by Andree Pratana.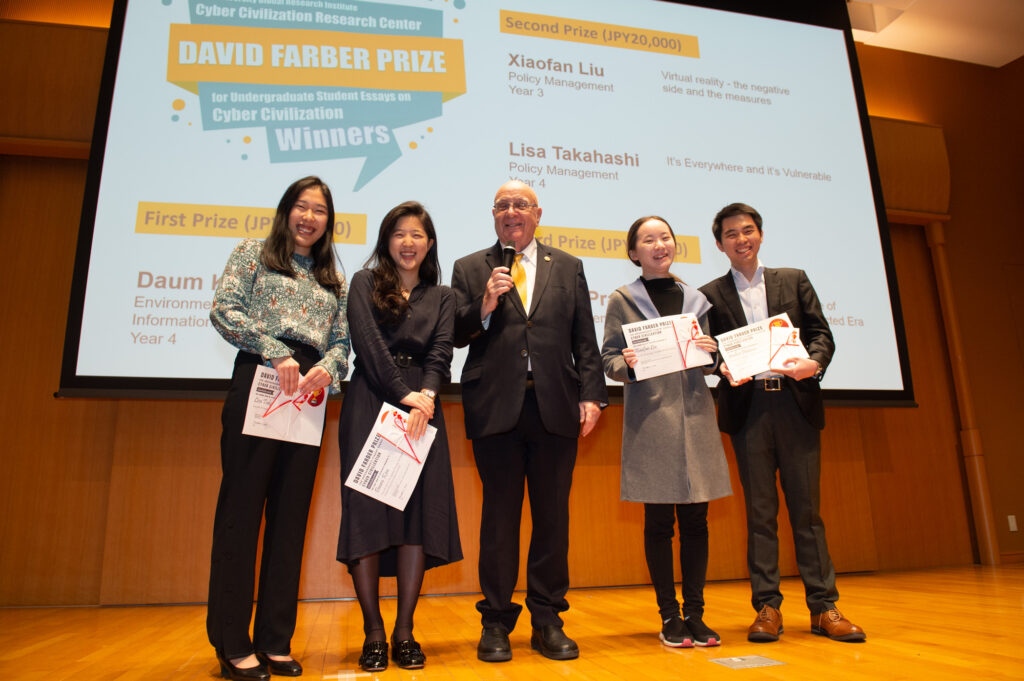 Congratulations to the above students! 
Click HERE to view the Call for Paper Announcement
Click HERE to view the Event Poster