The Cyber Civilization Research Center (CCRC) at Keio University held the CCRC 5th anniversary symposium on April 3, 2023 and more than 50 on-site participants and 25 online participants attended. As a result, speakers from various backgrounds shared their experiences and exchanged opinions, and new insights were found. The archive videos available below.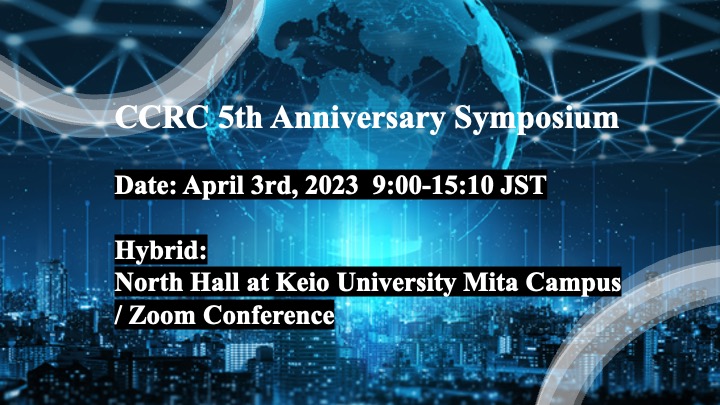 Host: Cyber Civilization Research Center (CCRC)
Date&Time: Monday April 3rd, 2023, 9:00-15:00 [JST]
Sunday April 2nd 2023, 20:00- 26:00 [EDT]
Hybrid meeting: North Hall at Keio University Mita Campus / Zoom Conference

Language: English
Agenda
I. Retrospective
9:00-10:00 Opening remarks : History on CCRC – The past 5 years "What has happened in medicine, security, IoT and international topics?"
Speakers:
Jun Murai, Co-Director, CCRC & Distinguished Professor, Keio University
David Farber,
Co-Director, CCRC &

Guest Professor

[

Global]

, Graduate School of Media and Governance, Keio University


Jiro Kokuryo, Chief Administrator, CCRC & Professor, Faculty of Policy Management, Keio University

10:00-11:00 Keynote speech : Why looking at the future of Cyber Civilization is important? 

Speaker:
Paul Mockapetris, Chief Scientist at ThreatSTOP, Inc.

11:00-12:00 Morning Panel: What is Cyber Civilization?
Discussion focus: Future of the distributed world, infrastructure, and the role of quantum Internet

Panelists : David Farber, Jun Murai,
Jiro Kokuryo, and

Rodney Van Meter, Professor, Faculty of Environment and Information Studies, Keio University
Ⅱ. Outlook
13:00-15:00 Afternoon Panels : The Next 5 years – Opportunities for future research

Introduction by David Farber
13:00-13:40 Panel 1 : Data sharing
Speaker :
Joi Ito, Research Member, CCRC & Director, Center for Radical Transformation, Chiba Institute of Technology

13:40-14:20 Panel 2 :  Future of Press

Speaker : Dan Gillmor
, Senior fellow at CCRC & Professor of Practice Walter Cronkite School of Journalism and Mass Communication Arizona State University
Panelist: Shigeya Suzuki, Project Professor, Graduate School of Media and Governance
Katsura Hattori, former editor at Asahi Shimbun, journalist


14:20-15:00 Panel 3 : Cyberconflict / Geopolitical stability

Speakers :
Kazuo Noguchi, Senior Manager at Hitachi America & Senior Researcher at Keio University

Panelist:
Catharina Maracke, Lawyer& Project Associate Professor, Keio University Global Research Institute

Moderator: David Farber

15:00-15:10 Wrap up by  Jun Murai
For inquiries regarding this event, please contact
Cyber Civilization Research Center, Keio University
admin@www.ccrc.keio.ac.jp